If you're new here, I hope you will go back and read along some. It won't take too long to figure out why a super fun teacher like me is posting in the middle of the day on a Tuesday afternoon, especially since school has already been back in session here in Atlanta for a month already.
And if you're an oldie around here, thanks for hanging around.
I'd also like to send a special shout out to
Leslie at Jack of all Trades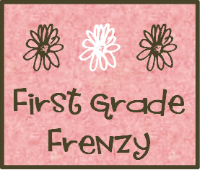 for listing me in their Top 10! That award totally brightened up my week.
I read their blogs daily as well. I'll post my other top ones soon. In the meantime, Last Monday I finished my 10 day stint of subbing. Some good and hard things came of that. I loved being back in my school from last year. I loved seeing my kids from last year and my coworkers from last year, too. However, I was subbing in new teacher's rooms so that they could go and observe veteran teachers. That part was hard. In many respects I knew more than they did. I don't say this to be cocky by any means, but more so because it is true. I don't know if this is happening in other areas, but in my county there is an arrangement with Teach for America. My school is receiving money from the government to hire these teachers. So here these college-aged teachers are who have not been in a classroom before and are essentially taking my job. Again, I don't mean this in any ill-will towards them specifically. Yet, it is so hard to watch as I sit there with a Master's Degree, 5 months away from the age of 30, without my own classroom - and they leave me sub plans asking me if I know how to teach calendar math?!
My principal did offer me a long-term sub position for an EIP position. The teacher (who I know from last year) is supposed to have her baby by the end of this week and is not coming back for the rest of the school year. So that is wonderful that I have somewhere to be everyday. But of course, it is not a contract - which means no insurance, and of course not a classroom of my own, etc. I continue to hope daily, especially today as they did another head count. Last year my class did not get added until October, so there is always hope.
In the meantime, I'm enjoying the cozy time on my sofa while we are finally getting some much needed rain down here. I'm hoping it will stop in time for Thursday to be beautiful so I can go to
The Yellow Daisy Festival
, an annual craft festival - the largest in the South. I haven't missed it in four years.
Oh and I am also still in awe of the beauty from this amazing wedding weekend we shared with family in Mentone, Alabama a week ago.